Established in 2022, the Moore Chamber Foundation (MCF) is a 501(c)(3) that focuses on opportunities to give back to our community through a variety of programs and initiatives. Some of the Chamber's programs had the underlining philanthropic component such as Fill the Bus and Hole-O-Ween which are now both flagship programs for the MCF. Also, Leadership Moore is now a part of MCF's program of work as well as the largest.
Our goal is to expand and promote other community events and partnerships that are in line with the Moore Chamber Foundation's purpose.
History of the Chamber Foundation
The Moore Chamber Foundation comes from a history of rallying at times of need. In 2013, our community suffered an overwhelming tragedy. Nationally, entities came to Moore to want to provide levels of assistance. We worked with the Communities Foundation of Oklahoma to establish a fund to help pay it forward to bring our businesses back. Since that time, the need to establish a locally managed foundation was recognized and here we are today.
There are hopes that this will begin to continue the impact from 2013 in a broader scale. Donations to the MCF will contribute directly to programming and services that foster leadership, workforce development and community involvement.
Support MCF
Prior to the establishment of the MCF, the Moore Chamber's Disaster Committee through the Communities Foundation of Oklahoma, was able to donate over $80,000 to local businesses and non-profits who suffered some form of loss from 2014 to present date.
For more information about the Moore Chamber Foundation, contact Kim Brown, Moore Chamber President: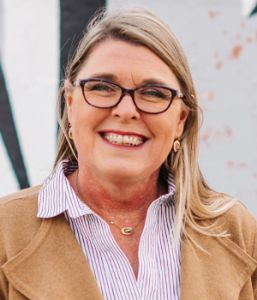 President & CEO, Kim Brown
Fill the Bus is an annual campaign hosted by the Moore Chamber Business Development Committee and Leadership Moore Alumni where area businesses and sponsors come together and raise money and school supplies that are donated to Moore Public Schools to help teachers offset personal costs of school supplies throughout the year.
The FTB campaign includes area businesses hosting school supply drives at their businesses; volunteers working three Friday afternoons in July in front of the Moore Wal-Mart to collect supplies; wrapping up the campaign during "National Night Out" in August, and delivering supplies to all the schools before school begins.
Growing Every Year
Each year, this program has grown to benefit more schools and classrooms. In 2022, the FTB campaign was able to provide supplies to 20 Moore schools including 10 elementary schools, all six junior high schools, all three senior high schools, and Vista Academy. Those schools each received approximately $350 worth of supplies.
By investing in our children today, we are providing them a path to a brighter future tomorrow. EVERY child deserves a chance to succeed.
To become a Fill the Bus Sponsor or to host a corporate drive, contact the Moore Chamber today!
Read full 2023 press release HERE.
Visit the 2023 Fill the Bus Drop Off EVENT PAGE for a list of the 2023 Fill the Bus sponsors and more details.
Would you like to volunteer at one of our drop-off events? SIGN UP HERE.