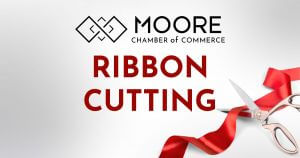 Opening a business is an investment. You have put your heart and soul into just opening your doors. Now is your chance to show the world what you have been able to accomplish. At the Moore Chamber, we are excited about the opportunity to be a part of your business journey.
The Moore Chamber prides itself on getting additional visibility for its members with ribbon cuttings, grand openings, and milestone celebrations.
A ribbon cutting is a ceremonial opening of a business that is brand-new or newly-renovated/relocated. It can inaugurate an organization's first day of business or it can take place weeks after a business's soft opening. But you shouldn't forget about the opportunity to earmark an anniversary with a ribbon cutting.
Because the ribbon cutting marks a very significant moment in the business' history, this is also a great photo opportunity. The ceremony gives the business representative, a chance to say a few words to those who have gathered to support their event. Business owners have used this time to publicly thank their financial backers, employees, friends, and/or business partners. They also take the opportunity to talk about what their business does.
Ribbon Palooza
Not all businesses are brick-and-mortar, but they deserve the same recognition. The Chamber also has an option for you if you are one of these unique businesses, called the Ribbon Palooza. They are held quarterly at the Moore Chamber. Each business is given the opportunity to showcase their businesses in the same manner as if they were hosting it at an office or storefront.
Hosting more than 75 ribbon cuttings a year is proof that businesses are coming to Moore for a reason and find value in their membership to the Moore Chamber of Commerce. So when it is time to schedule your celebration, we will be there! We will be the ones with the red ribbon and BIG scissors.
Interested in becoming a Moore Chamber Ambassador?
Email Amy Lee, Director of Membership, to find out more.