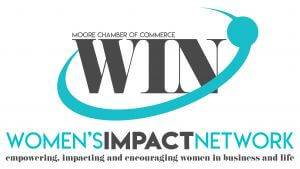 Started in 2020, the Women's Impact Network (WIN) focuses on encouraging, impacting, and empowering women in business and life. It is made up of Moore Chamber business leaders that come together for networking, professional and leadership development opportunities, and exciting events.
WIN believes that empowering women in both business and life leads to success, both professionally and personally. WIN brings energy and enthusiasm out in all its participants.
WIN's goal is to impact businesswomen in all stages. We celebrate the small things just as one would celebrate the large ones. Coming together as a group and forging lasting and encouraging relationships is one of the foundations of this group of empowered women.
Along with the connections that are being built within the events associated with the program, WIN wants to impact the community so this program also has a charitable component. Each year the group will select a local member charity to contribute to making their community partner.
Empower and develop members to embrace leadership opportunities inside and outside the Women's Impact Network.
Provide programs focused on the mission of the Women's Impact Network.
Provide communication mediums to engage membership.
Encourage WIN members to promote innovative thinking and embrace opportunities for positive change.
Grow your professional network.
Take advantage of professional development opportunities through programming, speakers, community involvement, and member connections.
Find a mentor and be a mentor for others.
Build lifelong relationships.
Yes, to become a WIN member you must be employed by a Chamber member's business.
The WIN program currently consists of the following:
Four WIN luncheons a year – We will host four WIN luncheons a year with the final luncheon (usually in September) as our annual "Girl Boss" luncheon that hosts a panel of exceptional Oklahoma women leaders with Q&A.
WIN Networking Hour – Hosted at a different business and is normally scheduled for the last Tuesday of each month, the WIN Networking Hour is a 4-5pm event exclusively for the women's network group of women.
There are sponsorships associated with the WIN program with different levels of exposure and involvement. As a sponsor of the overall WIN program, you will receive exposure for each WIN event for the full calendar year, plus will receive a certain number of tickets to each of the luncheons.
If you are a Moore Chamber member and would like to be part of the WIN email group, please contact us TODAY!
WIN Program Gives Back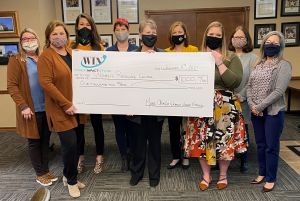 Each year, WIN hosts a small business BINGO event for women-owned or women-managed businesses where proceeds are given to a community partner chosen each year.
In 2020 and 2021, WIN's community partner was the Women's Resource Center, which received $1,000 both years.