The governing and policy-making body for the Moore Chamber of Commerce is the board of directors. Our board is responsible for ensuring the chamber is accomplishing its mission and implementing the organization's strategic plan. They are representatives of the Chamber's diverse membership and nominations to the board are considered annually.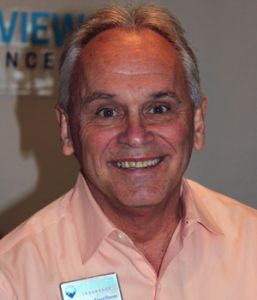 When my daughter Holly and I opened Clear View Insurance Services in 2015, one of our best business decisions was to join the Moore Chamber of Commerce. Having lived in Eastern Oklahoma County since the 1990s, I wasn't familiar with Moore, its city leaders, schools, businesses and community events. It has been a blessing these last few years to get involved with this chamber, graduate from the Leadership Moore program, earn a seat on the Board of Directors, meet fellow business owners, establish new friendships, get involved in this amazing community and watch our insurance agency flourish.
The City of Moore has had its share of hardships and setbacks over the years, but we always bounce back stronger and better than ever. Our city's leadership is dedicated and forward-thinking, and our award-winning school system continues to produce brilliant leaders for our bright future. Our city's emergency disaster system is recognized and honored around the world, and it's become a model of excellence, efficiency and resilience in the face of adversity. And finally, we are blessed to have one of the best, most vibrant Chambers of Commerce in the state, ranking in the top five in Oklahoma.
I look forward to serving as the 2023 Moore Chamber of Commerce Chairman of the Board. I am ready to serve and give back to a thriving chamber that has given so much to the community.
Please reach out with ideas on how we can make this chamber even more outstanding than it already is or how I may be of service to you.
Jim Jennings
2023 Moore Chamber of Commerce
Chairman of the Board
Jim Jennings
Board Chair
Clear View Insurance
Mike Smith
Past Chair
BancFirst
Brianna Wall
Incoming Chair
Oklahoma Electric Cooperative
Patti Morgan
Treasurer
Eide Bailly, LLC
Kelly Wells
Secretary
Vision Bank
Crystal Bennett
Republic Services/Allied Waste
Zach Colson
John M Ireland & Son Funeral Home & Chapel
Jan Davis
Tinker Federal Credit Union
Cacie Duncan
Norman Regional Health System
Marla Freeman
Oklahoma Natural Gas
Dee Ann Gay
First United Bank
Brian Mullins
Rose Rock Realty/1907 Investments
Carolie Rozell
McPhaul Rozell PLLC
Jake Shockley
Physical Therapy Central
Paul Urquhart
Earlywine Park YMCA
Gareth Williams
Armstrong Bank
Dr. Tim Eaton
Randall University
Dr. Joe Ely
Moore Norman Technology Center
Brooks Mitchell
City of Moore
Dr. Robert Romines
Moore Public Schools
In 2022, The Moore Chamber of Commerce Board of Directors has worked hard to move the chamber forward. In order to accomplish this, they have approved the following: